June 17, 2022 June 17, 2022 Paul Butcher https://plus.google.com/116893384630351018637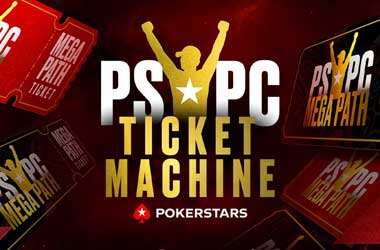 Summary
The PSPC Ticket Machine will award Mega Path tickets to the 2021 PSPCPlayers get more chances to win a $30K PSPC Platinum PassThe PSPC takes place in January 2023 in The Bahamas
PokerStars is giving players another option to get involved in the highly-anticipated PokerStars Players Championship (PSPC) which is set to return in January 2023 as part of the PokerStars Caribbean Adventure (PCA).
The operator has just launched the PSPC Ticket Machine which will give away over $500,000 worth of Mega Path tickets for the prestigious PSPC tournament.
Mega Path is a satellite system that awards Platinum Passes for as low as $0.50. PokerStars is already running this promotion alongside the Road to PSPC in a bid to send as many players as possible to the Bahamas next year.
PSPC Ticket Machine
The PSPC Ticket Machine will run until October 30, 2022, and players can participate in this promotion in a few easy steps.
The first thing to do is to go to the "Challenges" window of your PokerStars account and opt into the PSPC Ticket Machine promotion which involves a set of challenges that you need to complete each week so you can be eligible for the next draw.
The challenges are fairly easy – you only need to play 10 Zoom cash game hands, three Spin & Go tournaments, or two multi-table tournaments and you're good to go!
The PSPC Ticket Machine will award prizes in the form of tickets worth up to $1,000. You'll win extra tickets if you complete multiple challenges. You can then use the tickets to enter the Mega Path satellite system for a chance to win the highly-coveted $30,000 PSPC Platinum Pass.
Mega Path has five tiers which you can enter for as low as $0.50. Direct buy-in is allowed in all levels except Step 4. Players who reach Step 4 are in for the chance to walk away with a $30K Platinum Pass. Step 4 is scheduled every Sunday.
The first players to win a $30K Platinum Pass via the Mega Path promo were "ch0c0G0Pkr23" and Marc "Rowniwn" Radgen, who finished first and second respectively during the Step 4 tournament on June 12. They will travel to The Bahamas next year to take part in the PSPC for a much cheaper price.
PSPC Platinum Pass Package
The PSPC Platinum Pass includes the $25,000 tournament buy-in, six nights' accommodation for two, $1,900 in expenses, airport transfers, and PSPC merchandise. Platinum pass holders will also enjoy exclusive experiences during the tournament.